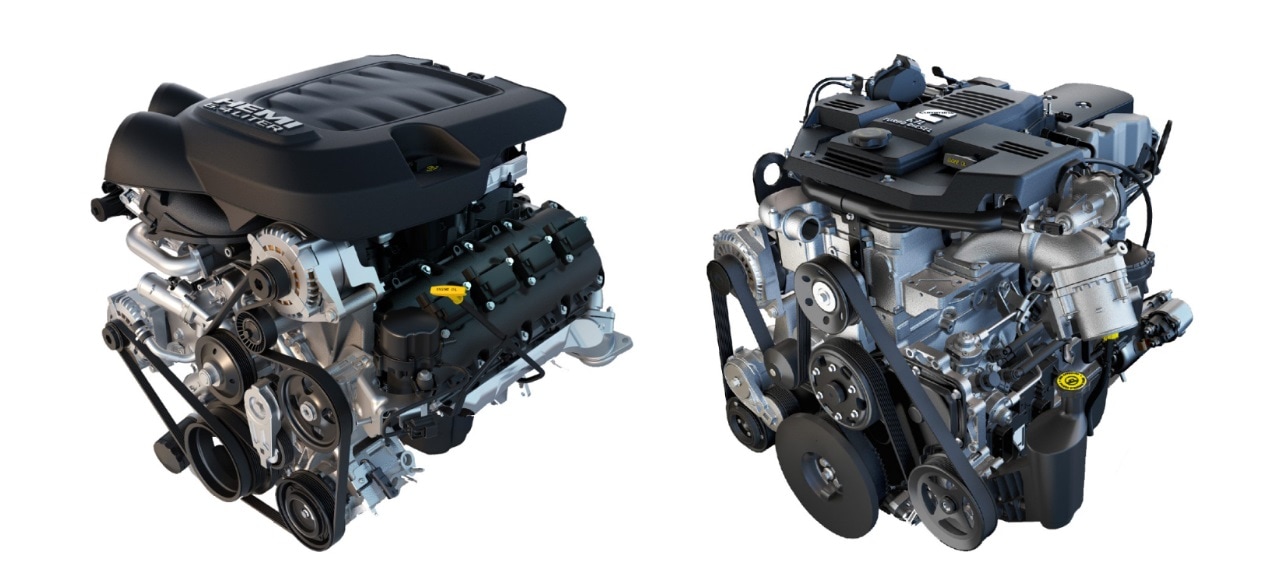 While many drivers associate diesel fuel primarily with large semi trucks, lately the fuel type has been seeing something of a rise in popularity, especially in pickups like the RAM 1500. So, what is the difference between these two fuel types, and is diesel better than gas or is gas better than diesel? Like most questions relating to our cars, trucks, and SUVs, the answer has a lot to do with what each individual driver is looking for.
What's the Difference Between Gas and Diesel?
Both gasoline and diesel fuel are key components in an internal combustion engine, but each fuel plays a different role in how that internal combustion happens. In short, a gas-powered engine compresses air and fuel together, then uses a spark plug to ignite the combustion. In a diesel-powered engine, the air is already compressed when the fuel is injected, and the diesel fuel immediately ignites from the heat of the air.
How Do Diesel vs Gas Engines Drive?
We could go much more into detail about the technical aspects, but what most drivers want to know is – what does this mean for me? Generally speaking, a diesel engine will produce more torque but less horsepower than a gas engine. Torque has a big effect on acceleration and the initial process of getting a car moving, which is one reason diesel engines are so popular in semi trucks, as well as some of our powerful RAM trucks, including the RAM 1500, RAM 2500, and RAM 3500. On the other hand, the lower horsepower means that sports cars will probably never go diesel.
Diesel Engines in Virginia Beach
Here at Hall Chrysler Dodge Jeep® RAM Virginia Beach, we've found that the highest demand for diesel engines is in pickup trucks. That's why we're thrilled to have several diesel options available in the popular RAM 1500. You can experience for yourself the thrill of that powerful torque when you take on tough jobs in this popular pickup. Call us today to learn more about the RAM 1500 and our RAM specials. Virginia Beach drivers can count on our expert staff to help them pick the right engine and the right fuel for their lifestyle.