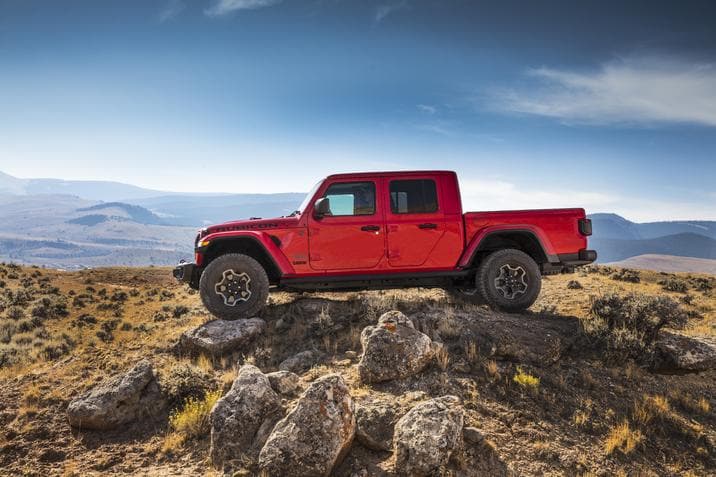 When it comes to outdoor adventure, the expert journalists who make up the Northwest Automotive Press Association (NWAPA) know what they're talking about. Every year, they hold their annual Outdoor Activity of the Year competition, more commonly known as "Mudfest," to assess the best of the best when it comes to outdoor vehicles. And this year, our Jeep® dealers in VA were thrilled to hear that one of our very own dominated: the 2020 Jeep Gladiator.
The 2020 Jeep Gladiator made history at this year's Mudfest by capturing the title in three categories that have never been won by the same vehicle before. The powerful Jeep truck won top honors in the Truck and Extreme Capability categories, and it was chosen out of all the category winners as the 2019 Northwest Outdoor Activity Vehicle of the Year.
NWAPA President John Vincent praised the model's "exceptionally functional blend of SUV and pickup attributes," and he commented that it was chosen from among the "most diverse group of vehicles" in the 25 year history of Mudfest. NWAPA journalists spent two full days testing the Mudfest models. Vehicles were evaluated on both paved road and off-road trails before winners were selected for just six categories.
We're always happy to hear that one of our fantastic models earns praise, but we're not surprised. The all-new 2020 Jeep Gladiator was designed for off-roading, and it is the most capable midsize truck for off-roading... ever. With its impressive abilities, class-leading towing and payload capacities, and the open-air driving experience Jeep vehicles are known for, it's easy to see why the NWAPA judges loved this model.
Visit today to test drive the 2020 Jeep Gladiator, or check out other models like the 2019 Jeep Wrangler or 2019 Jeep Cherokee. Portsmouth, VA and surrounding Virginia Beach area drivers can find their perfect outdoor activity vehicle here at Hall Chrysler Dodge Jeep RAM Virginia Beach.